The Arlington Public Library has an audio collection of over 250 books on CD's, playaways, and MP3 and our patrons also have access to Bridges. You can read below about this great FREE Service.
Click on Bridges to take you to the website:

·
This free service provides access to Bridges-OverDrive Digital Library and allows patrons of the member libraries to download audiobooks and eBooks to their home computers, tablets, smart phones, e-readers or iPads.
Our membership in this consortium allows Arlington patrons who live in Arlington and rural Fayette County to access this service. If you live outside these areas, please ask your local library if they provide access.
To check out and download eBooks and audiobooks:
You will need:
· Valid Arlington Public Library card and password (Use the same password you set up for your card through the library catalog.) (Password is your phone number that you used when you registered.)
· Access to the Internet and a computer and/or a compatible device
· Compatible browser - The Bridges website is not supported in Internet Explorer 7 or 8. The Bridges site will run properly in Mozilla Firefox, Google Chrome, Safari, or Internet Explorer 9 or higher. If you use Windows XP, you will need Firefox or Chrome as XP will not support IE9.
· Or download the Libby App for your Smartphone.
Click the image below to connect to Bridges.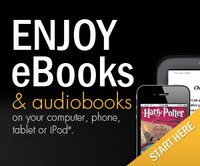 To sign in to Bridges, click on "Sign In" or "Account"; on the next page, choose Arlington Public Library from the drop down menu. In the window that opens below that, enter the patron number from your Arlington Public Library card and your password for your library account as the PIN.
· Read through the "Help" section on the Bridges site for information on any software or apps you may need to download.
· Lending period is 14 days.
· At the end of the check out period, the license allowing the book to be played or viewed will expire and the book will once again be available for checkout from the digital library; you do not have to do anything to "return" the book. Audiobooks and eBooks may be returned early; check the "Help" section for instructions for your device.
If you need additional assistance, please call or visit the library during normal business hours. We're happy to help